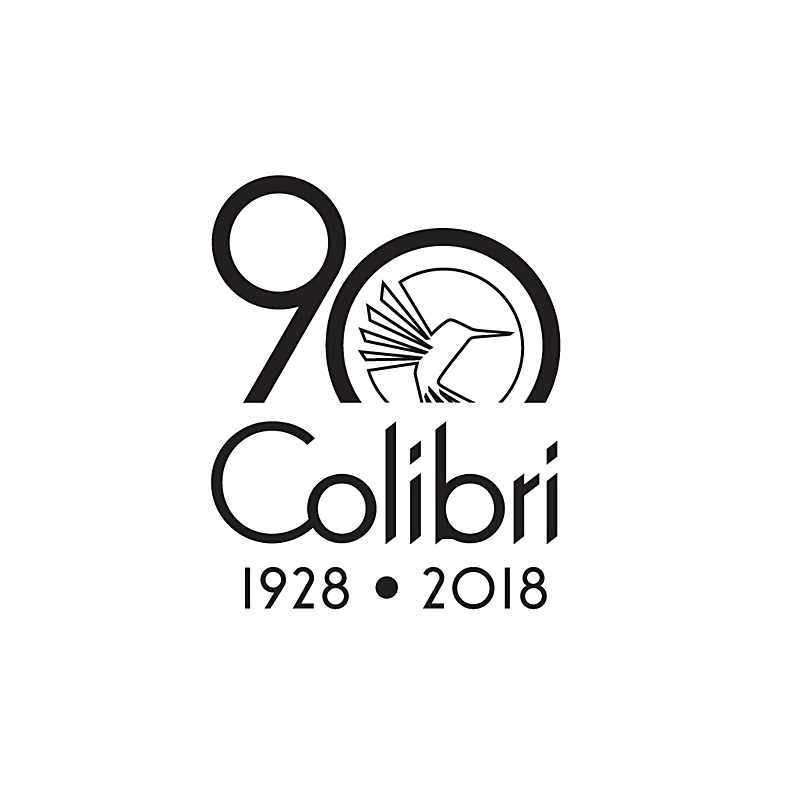 The first lighter Colibri was produced in 1928, but the founder of the company, Julius Lowenthal, has been involved in the world of lighters almost since their inception, having started out in a firm specializing in "smokers' ware" since 1910, when he was only 18.
The history of the brand Colibri
After the First World War
Après la Première Guerre mondiale, il fonde avec son frère Benno, l'entreprise J. & B. Lowenthal (JBELO). Plus tard, en 1927, Julius a l'idée d'un briquet qui permet d'éviter aux pouces d'être en contact direct avec la roue de silex. C'est ainsi que naît le briquet connu comme le COLIBRI ORIGINAL. Comme souvent avec les briquets, des difficultés techniques surviennent, mais le briquet connaît un énorme succès, et certains COLIBRI ORIGINAL fonctionnent encore correctement. Durant les années 1930, la société obtient un brevet pour un briquet entièrement automatique qui garantit un allumage à chaque fois – l'ORIGINAL est le premier briquet à être fabriqué en Suisse. À cette époque (1933), Julius Lowenthal déménage de l'Allemagne à Londres, où il établit Colibri Briquets Ltd. Son frère Benno, qui avait déjà déménagé en Suisse, le suit à Londres pour monter sa propre manufacture de briquets BENLOW. Leur sœur Meta reste à la tête de la maison allemande (IBELO). Les briquets Colibri de Londres et IBELO d'Allemagne travaillent à nouveau ensemble en 1945. Durant les années d'après-guerre, Colibri a son propre département de développement et commence une série de développements techniques qui produisent encore de nouveaux modèles de briquets. 1955 voit le premier briquet Colibri à gaz. Il est produit en France où la connaissance existe, combine les avancées françaises dans les réservoirs de gaz butane avec le mécanisme de précision du COLIBRI MONOPOL. Il en sort le Colibri Monogas dans une variété de finitions et un certain nombre d'améliorations fonctionnelles. 1958 voit également la première recharge de gaz multiple par Colibri et en 1963, le Colibri Autoflint qui assure une pression régulière. En 1961, Colibri invente le briquet piézoélectrique, mais il faut de nombreuses années pour perfectionner le système, commercialisé en 1967 sous le nom de COLIBRI MOLECTRIC 80, lui-même remplacé deux ans plus tard par le COLIBRI MOLETRIC 88, qui reste l'un des briquets les plus fiables, pratiques et élégants. Pour ceux qui se passionnent pour ces histoires, il faut noter que dans le film de James Bond « L'homme au pistolet d'or », c'est Colibri qui a conçu le très ingénieux pistolet d'or, assemblé à partir d'un Colibri 88, un étui à cigarettes, des boutons de manchette et un stylo. D'autres développements suivent. Il a toujours été difficile, par exemple, de produire un modèle entièrement automatique totalement lisse en apparence. Colibri résout le problème et en 1967, les premiers modèles COLIBRI MONOMATIC et COLIBRI TETRA sont mis sur le marché. Ces deux versions sont remplacées par le COLIBRI L'AMBASSADEUR et le COLIBRI ENVOY ainsi que le COLIBRI SUPERTRONIC, un modèle de luxe avec batterie, ouvrant la voie aux briquets longs et minces si populaires aujourd'hui. La prochaine étape est de fabriquer un briquet qui ne nécessite pas de pièce mobile pour l'allumage. La réponse arrive en 1977 avec le COLIBRI SENSATRON, qui fonctionne avec un simple contact. En 1982, deux nouveaux modèles sont présentés à l'occasion d'une double « présentation », puisque Colibri révèle en même temps avoir signé un accord avec COMOYs/Orlik pour la distribution des briquets Colibri au Royaume-Uni. Le premier est le COLIBRI JETRIC 10, qui représente un tout nouveau moyen pratique de parvenir à un briquet à couvercle fermé. Au lieu d'avoir à soulever le couvercle avec le pouce et le déplacer pour faire fonctionner le servomoteur, le système Jetric libère le couvercle qui bascule en position ouverte depuis le haut du briquet. C'est un très beau briquet décliné dans un certain nombre de belles finitions. Colibri décrit l'autre modèle, le COLIBRI LASATRON comme le premier véritable « briquet de l'ère spatiale ». En cela, le contact est encore simplifié : après avoir ouvert le couvercle, le faisceau est envoyé à travers un évidement sur une cellule sensible photoélectrique. Pour allumer le briquet, on passe simplement son doigt sur la poutre. Ce dispositif est vraiment en phase avec la technologie de la micropuce. Il est disponible dans les standards de finition de bijoux les plus élevés. En nous intéressant à la gamme Colibri, nous découvrons au moins 20 modèles différents, certains en six finitions, ce qui représente plus de 100 « combinaisons ». Alors que la plupart des modèles sont adaptés à l'allumage d'une pipe, les fumeurs de pipe ne sont pas négligés. Sur deux modèles, le PIPEMAN et le PIPER, le PIPEMAN semble le plus intéressant. Avec une action roue latérale, elle est d'une conception « traditionnelle » faite de laiton massif, est durable et dispose d'un réservoir d'une bonne capacité. La flamme sort de côté et peut facilement être contrôlée. Le briquet tient sans problème dans une main et est très maniable. Il en existe quatre finitions, y compris un très attrayant grain de bois à l'excellente valeur, et à en juger par la façon dont ils sont fabriqués, offriront une bonne durée de vie Nous avons déjà mentionné l'accord de distribution COMOY /ORLIK avec Colibri. Les administrateurs des deux sociétés sont certains qu'il s'agit d'une étape essentielle pour permettre à Colibri de devenir la marque leader au Royaume-Uni.